Stories from Parent's and Student Athletes
His system works.
My wife and I placed our incoming freshman in his 12 week strength and agility program and what a difference it made in his ability to get off the line, cut, and accelerate. The best thing about the program was the confidence that Javes instilled in my son through his upbeat and encouraging coaching style. The impact was seen immediately as Jonah had a standout 7 V 7 season. I would highly recommend Javes's training camps and training sessions to improve skills. We will be signing up in the off season.
My name is Jaidren Williams and I am 17 years old,
I met Javes about a year ago before my sophomore year, through my high school coach football coach . I was looking for one-on-one training to help me reach the skill set needed to be competitive in Football at the high school level.
Javes helped me regain strength that I had lost from past injuries that kept me from moving forward as a football player and took me to a place where I had never felt before- healthy, pain free and I was running faster and jumping higher than I had ever done before.
I respect Javes as a person and as a personal trainer and as a coach, he cares about me and he gave me the confidence I needed to believe in myself. I feel that if it was not for Javes, I would not be where I am today. Not only did he work with me 3x week to ensure that I was stretching and healing but he also focused on making sure I was lifting and doing the right techniques in everything I did.
I will be continuing my training sessions with Javes during my off seasons because I know he will help me be successful in my football career.
Jaidren Williams
~ 17 year old High School Football Player
Thanks for always bring a great role model for Michael.
I know your academic reinforcement, character and work ethic is something far greater than athletic ability. Your program is one of the reasons my son is becoming a better player, but more importantly a better human being.
We appreciate all you have done!
– Moreno Family
I'm one of Javes Lewis students
and I've been training with him for 3 months and just in the couple months of me going with him I've improved dramatically, both physically and mentally. I'm quick off my feet and can see plays before they happen allowing me to be 1 step ahead of every offensive play. I've made so many plays that I would've never made if it wasn't for Javes teaching me his techniques. And when he's training me, he's more than a trainer he's like a friend, he's always energetic and fun, he makes training fun while working hard at the same time. His training is taking my Football skills to another level which is going to benefit me through out HS and hopefully in college as well
Want to bring out the best in your son or daughter?
Then bring them to Javes Lewis. I was first introduced to Javes back in 2014. From the first training session I was blown away at the pace and professional level of instruction that Javes provides. Mechanics, speed and agility, respect for the game, respect for yourself, hard work and so much more. There is no doubt in my mind that my son and daughter are receiving the very best instruction around. The only problem is that we didn't find him sooner!
– Moreno Family
Stories from Personal Training Clients
Javes has turned looking good into something easy and fun, rather than a chore.
It is one thing to think you look hot. The life-changing moment is when you know you look hot. My time with Javes has left me knowing that I look spectacular. Not only did this give me a boost in my personal life, but it gave the confidence I needed to succeed in my professional life.
I ever thought that a personal trainer could make such a huge difference in my life, but Javes distinctly succeeded in doing so.
Valeria A.
In 2014 I weighed over 310 pounds. July 23rd of 2014 I decided enough was enough and something needed to be done.
I went to a local weight loss clinic and paid for some bad pills and terrible advice. I took pills 3 times a day and was told to never eat more than 600 calories in a day. I lost some weight, but what I lost more of was my energy, happiness, muscle strength and balance. The pills told my brain I wasn't hungry, so I rarely ate. With no food, I had no strength, my body had no fuel to keep me going. The pills targeted a part of your brain that stabilize your moods and coordination, which meant I was permanently upset and wobbly, a terrible feeling. I was down some pounds and got some compliments, but within I knew something better had to be out there.
Upon talking to a co-worker about wanting a better understanding of fitness and weight loss, I was referred to Javes. I got his number from her and stored it in my phone, scared to call. It was a terrifying feeling thinking I was about to call someone and invite them in my life to criticize my life choices and lack of physical fitness. After a couple days of feeling worse than ever I made the call. The man that answered the phone was not the "mightier than thou" person that the stigma of the word "trainer" has. The man that answered the phone was kind, encouraging, honest and passionate about his career. I told him how much weight I had lost and that I wanted to be stronger and keep going. I also asked him if he yelled at people because I was terrified, he assured me that he only wants the best for his clients and provides positivity and knowledge to get them there.
I met Javes in person and we talked about where I was at physically, where I came from and where I wanted to be. I quickly learned that my fear of criticism was not necessary. He never once criticized me. I told him about the pills and the 600 calories, he was shocked that people out there recommend that and instead of judgement he gave me knowledge. Javes gave me knowledge of proper nutrition and took me on a journey to strength, balance and recovery. Thanks to him, I have become stronger mentally and physically. Javes makes every workout count, every exercise is meaningful. I have lost 100 pounds since the start of my journey, but it's not about the weight loss, to me it's about what I've learned. He taught me that I can be strong, fit, have endurance and energy through the day. I learned how to eat without being on a diet. Exercise has become something that I enjoy, between working full time and being a full time student my workouts are now my "me time".
Javes is a great teacher, a great motivator and an amazing trainer. Javes is always upping his game in the fitness world, always learning new things and applying them in our routines. Never a dull moment! I am so grateful for everything Javes has done for me and continues to do. I owe this newly found healthier me to him.
MB
My name is Paul Turner and I am a 48 year old man. In July of 2011, I was diagnosed with Congestive Heart Failure (CHF), Type-2 Diabetes, High Blood Pressure and complications from CHF.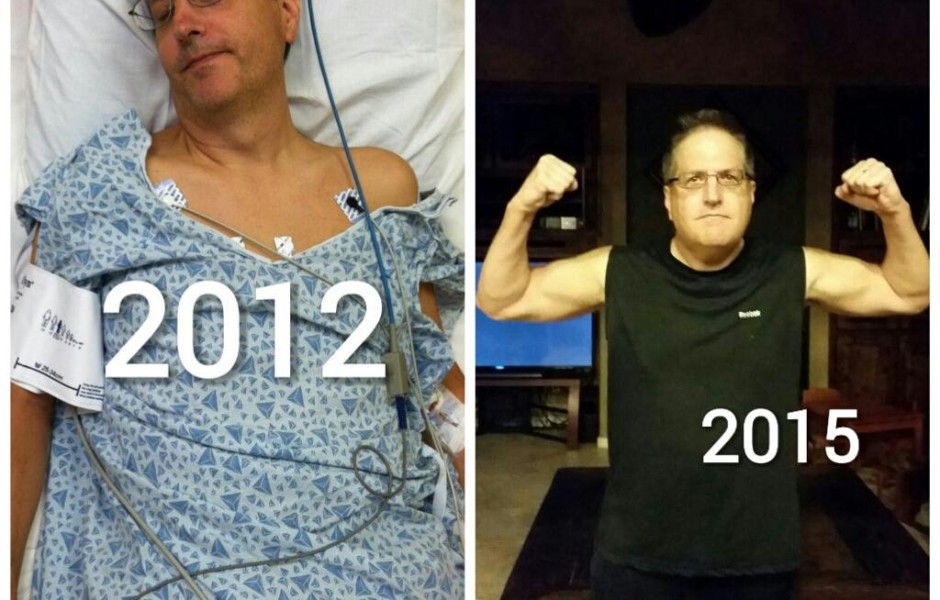 As a result of the complications, I was unable to stand, walk or do any exercise for a period of just greater than 3 months. During this time, I experienced extreme weight loss as well as the deterioration of my muscle mass.
Once I had recovered from the CHF complications in January 2012. I decided to join a local gym in order to regain my strength and get / keep myself in good physical condition. This is where I was introduced to using a professional trainer to help me establish and reach my goals.
I began to train with Javes Lewis that January. He immediately made an assessment as to what constraints I may have and any areas that I wanted to specifically develop. I told Javes about my medical history and the medications that I was taking (I was taking a beta blocker and therefore needed to be mindful of my pulse level). Javes have a complete understanding of my limitations but was also able to design a workout routine for me to follow both during the training sessions and on my own time.
During my time with Javes, I was amazed at the progress we had made. I was able to gradually rebuild my muscles, regain my sense of balance, maintain my weight while reducing my body fat percentage and get a real in-depth understanding of the types and proper forms of exercise that I needed to continue to develop.
Now, nearly 13 months since I first Met Javes, I have accomplished the following:
I am no longer medicated for diabetes. This is a direct result from exercise and nutrition.
I have lowered my dosage of blood pressure medication.
I have been told by my cardiologist that not only has my heart returned to normal but that it sounds very strong.
I have increased by weight by adding muscle.
I have a great appreciation and understanding of the need for and how to properly exercise.
My family has become more aware of their own physical needs and nutrition (my wife has lowered her A1C by 10% due to dietary changes.
Working with a professional trainer like Javes Lewis has helped me to change my life style. The achievements are noticeable both physically and mentally. Today, I am probably in the best shape that I have been in since I was a teenager.
Paul T.